Searching the AVML (Master List) is performed the same as in version 1; you just start typing the name, and the list scrolls to the area where the typed name can be found. The information on the selected cultivar is the same, except a new field is added for Alternate Registration (which will include Canada and Australia/New Zealand — possibly Dixie AVS and the Texas Hybridized List, too), and a field for a short personal note. The big change is the addition of photos. Of course there won't be a photo for every cultivar, but we're starting out with over two thousand photos. Sometimes there will be an alternate photo, with either a blossom close-up or a photo showing a difference due to different growing conditions. And you can easily add your own photos, too.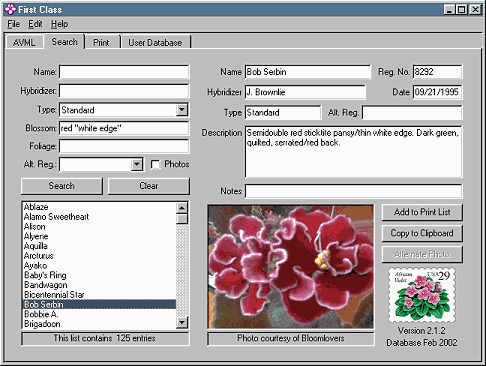 In version 2 you can search on more than just the name and hybridizer. The above screen shot shows a search for a standard red with a white edge. Results are presented in a list, and clicking on a name will display the description and photo (if available).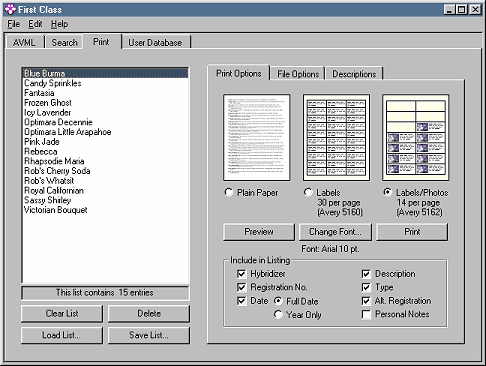 Printing has been made simpler and easier to understand. There is now an option to print to larger labels, with a photo included. If you are printing to a sheet of partially-used labels, you can click on the label where you want to start printing. By separating printing and file options, there is no longer the confusion of "printing" to a file. You can save the descriptions to a file or copy them to the Windows Clipboard and paste them into another application, such as an e-mail message.
The user database is where you can add information on cultivars not listed in the AVML. The implementation of this feature will be very similar to that in version 1, except you will be able to add personal notes and your own photos.
One very nice feature will be easier downloads for database updates. You will no longer need to go to the web site, download, and unzip the files. Everything will be done from within First Class. Clicking on File | Update Database... will automatically download and install the database update (after entering a password). A status window will show the progress of the download and installation.
Annie Rieck gave a program on First Class Version 2 at the 2003 AVSA National Convention. You can download her PowerPoint presentation in PDF format.
If you have any questions, please contact us at info@firstclass2.com. To order First Class Version 2, go to our Ordering Information page.